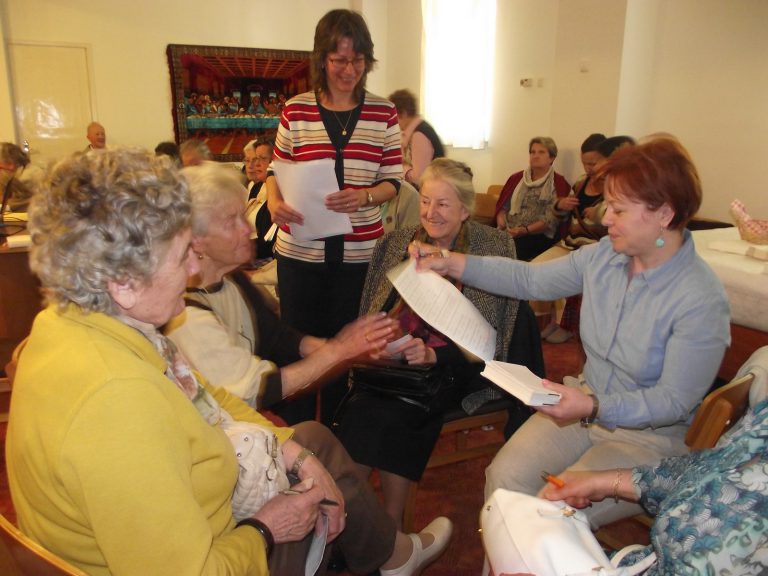 A good number of our colleagues, supporters and interested people came. Traditionally, we have held these events on a Monday morning in May for almost 40 years. And the autumn counterpart in September, also on a Monday. The purpose of these events, apart from providing information, is to get together and get to know the mission and each other even better.
Up to now, as it is a working day, the mornings were mainly attended by retired supporters and those who had taken a day off. A special thank you to them for their sacrifice! But for the benefit of the staff and for our own pleasure, we have now taken the decision together to move both the September and May staff mornings to Saturdays in the future, to make it more viable for everyone to participate.
At the May event, we were happy to look back on the project that the International Lepramis Mission in China is completing this year, in the framework of a presentation by Márta Fazekas Riskón. For years, we, the Hungarian Lepramism Mission, have provided the financial background for the leprosy rehabilitation activities in the Xishuangbanna area in southern China, which will be completed this year. If only more and more places would do the same for the healing of our fellow sufferers and the rehabilitation of themselves and their families! We feel privileged that our supporters have faithfully made this possible. Thank you very much!
We are now focusing our attention and growing financial support on our other project in Dicsing, China. The need for help there remains very great. We are therefore prioritising and asking our supporters for their continued help to make it happen.
The programme was enriched by a lot of singing together, with Zsófia Pusztainé Fontanesi's violin playing leading the way.
Everyone was very happy and enjoyed the quiz, which was led by our colleague Éva Sepsi. The questions to be solved in the groups were, of course, all related to the Lepramis Mission. They will be enclosed in our next newsletter for all our supporters to find out and solve! And after the exciting announcement of the results - because participation is the key! - all participants received a small souvenir.
Our former director Piroska Rozgonyiné Asztalos led the prayer community. Then a lunch prepared by our staff and some very good conversations closed the serene occasion.
Thank you for the work, help and love of our colleagues and supporters!