Let's learn!
The coronavirus outbreak has brought about a number of phenomena we hadn't thought of.
Brent Morgan, Executive Director of the International Lepramism Society, writes:
"Since the beginning of the epidemic, there have been statements about how many people 'feel like a leper' because of the isolation and confinement. And more recently, the Italian Foreign Minister, Luigi Di Maio, expressed the same sentiment in front of the widest possible press, when he asked tourists to go out and not to consider Italy as a 'leper colony'."
The world's leprosy organisations immediately spoke out together. Throughout history, the word "leprosy" has carried a distinctly stigmatising, fear-inducing connotation in every language. It reflects badly on and prejudices so many of our fellow human beings who are innocently suffering. It is wrong that it has also become a figure of speech, and everyone, but especially responsible persons, should be very wary of it. As leprosy organisations, we are determined to fight against any stigmatisation or discrimination, and therefore we never use or pronounce the word 'leper', and even when we do speak of it in a condemnatory way, we refer to this mistake as the 'L-word'. We use the appropriate and correct term "leper" in all cases.
In their own environment, leprosy sufferers are and are still suffering the consequences of the "L-word" as an ancient curse, completely helpless and hopeless. Those of us who love and care for leprosy sufferers must do all we can to support them and even take care of the language they use! In this way, we also protect our patients, their rights and their dignity!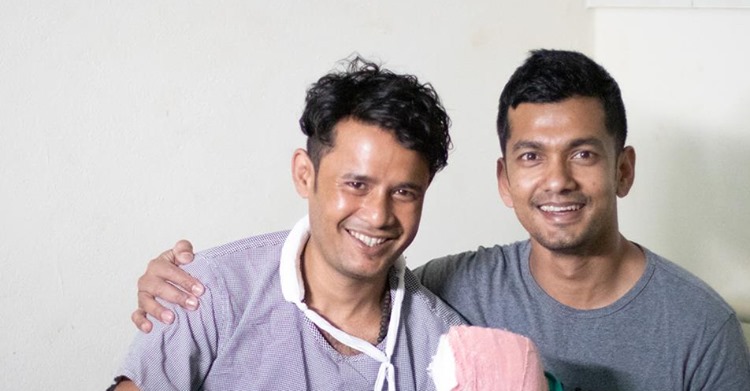 Supa with a patient
Furthermore, we do not keep leprosy clinics in "leprosy camps", but we treat patients in a dignified way in fully cultured, hygienic, modern hospitals and clinics! We have fought with all our might in the previous decades to make "colonies" a thing of the past, as leprosy is easily curable!!!
It is our job to clear up the ignorance and misunderstandings about the Covid-19 outbreak! Leprosy is now hardly a contagious disease, as 95% of humanity is immune to it! However, the coronavirus is unfortunately a serious threat, against which we must consciously and disciplinedly protect ourselves! Leprosy could easily be eradicated from the Earth if more help was given to people living in extreme poverty to have clean drinking water, healthy diet, minimum hygiene.
So to compare leprosy to the dangerous and serious coronavirus: inherently wrong and unfair! And the use of the "L-word" - however dramatic it may seem - is impermissible!