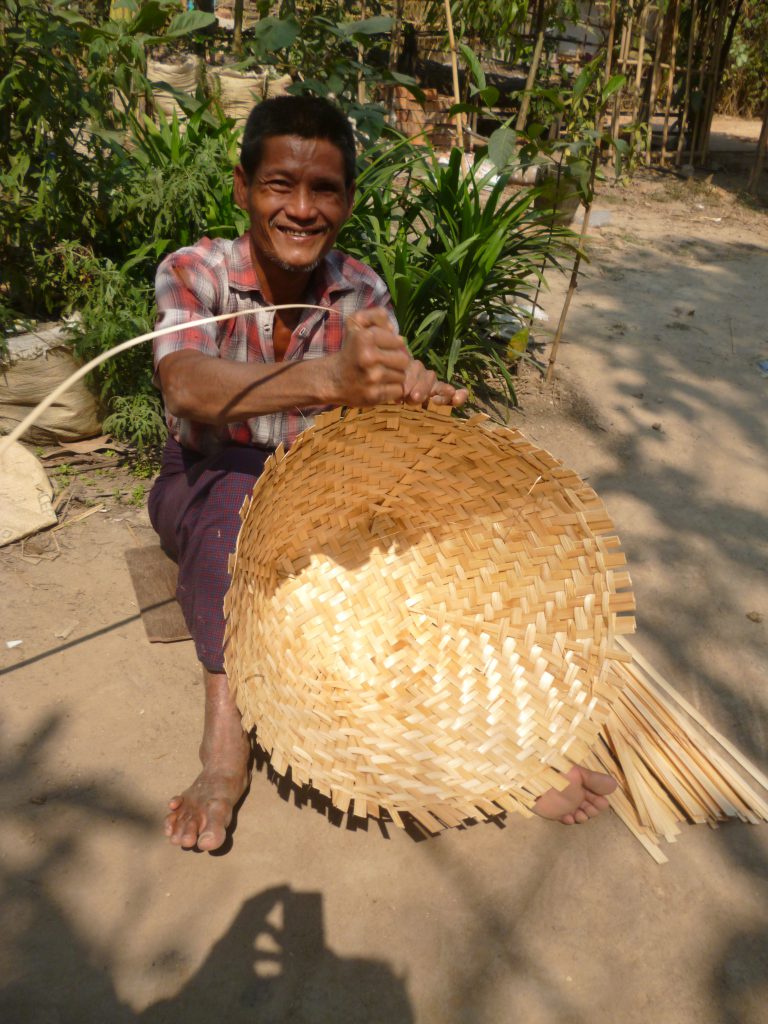 Thein was 10 years old when he noticed he had no pain in his legs and arms. He was sent to a doctor. He was treated for a year with a new leprosy drug. After three months, a nerve infection left him unable to use his hands and therefore unable to eat. For two or three months he was bedridden, with great pain all over his body. Thein used to grow nuts and vegetables, but due to his disability he has been unable to do so for the last 10 years. His arms and legs were bent like claws. Apart from leprosy, his eyesight has also deteriorated.  After Cyclone Nargis in 2008, Thein came into contact with the Myanmar Lepramism Mission. At Mawlamyine Hospital, his legs were treated and the Myanmar Leprosy Mission ensured that his ulcers were checked monthly. She was provided with a kit containing cream, gauze and other materials to protect her from further injury.
Now, with a micro-loan of 100 000 Kyat from a project funded by the UK government, Thein is able to make a living from basket weaving. For three days, he will slice bamboo branches and weave baskets from them. In six days he can make 30-40 baskets, which he can sell at a good price. Previously, he only took local loans, which he could only pay the interest on. Now he earns 68,000 Kyat a week, which he spends on his child.
Thein does not plan to expand his basket weaving, but he would like to grow nuts and vegetables on his land for his own consumption.
Thein is a beneficiary of the Integrated Rehabilitation Project of the Lepramism Mission. As part of the project, fifteen centres are run to provide physical rehabilitation, counselling and spiritual support. More than 100 rural communities are supported. Over the past few years, the project has helped more than 1,500 leprosy patients and their families. 150 patients have undergone reconstructive surgery.