"On an already hectic day at the hospital in Ananda, Nepal, I even asked to go to the physiotherapy department." - writes a visiting volunteer supporter. "I introduced myself to the physiotherapist who was working with one of the patients. I asked what was wrong and asked permission to take a photo.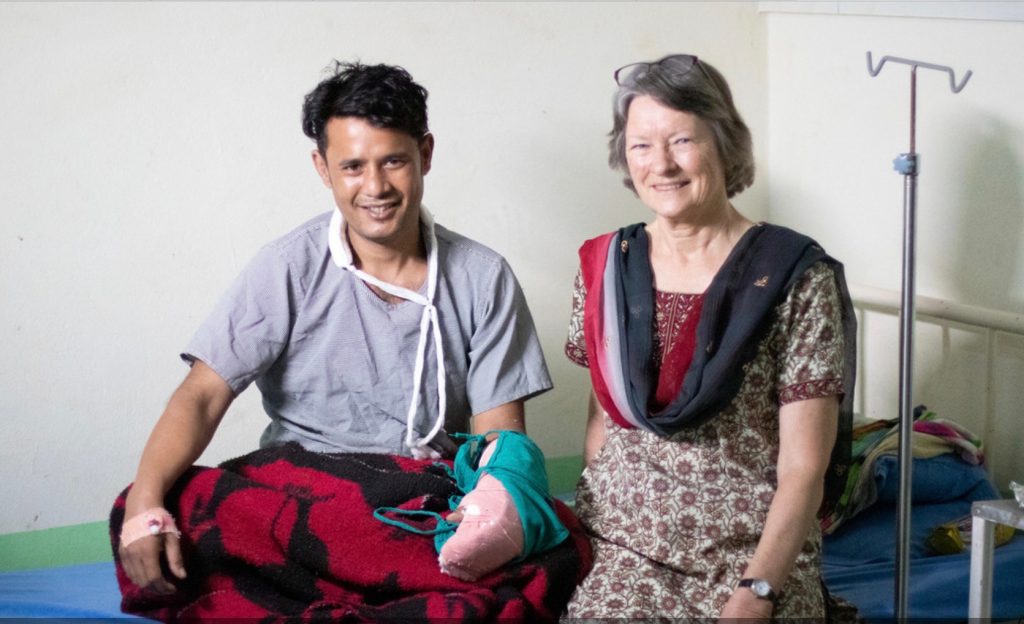 The young Indian patient, Krishna (30 years old), gave me permission to take his picture with a big smile. Thus began our interesting conversation. He was diagnosed with leprosy 14 months ago. Since then, he has come to the end of 12 months of combined medication. He had previously worked briefly as a guide. He lives with his sister. He did not want to talk about his parents, so I did not ask him any more. She got very emotional and just said, "My sister and I are family, I take care of her." Even as a guide, she noticed that her left hand was a little numb. He couldn't get a good grip on it and went to a pharmacy with these complaints. They gave him some medicine, but he got worse. He visited a hospital in India and was referred to the leprosy hospital in Ananda, Nepal. There he was diagnosed with leprosy. He was started on medication, which has now been completed. He is now awaiting surgery to regain the use of his fingers and return to daily life. The operation will take place the next day.
As I looked closer at his hands, I saw that his fingers seemed to be turned outwards, not inwards. He can't even straighten them. He had to do an interesting exercise: squeezing wooden rollers to force his middle finger to bend in. To my question, why the middle finger? - the physiotherapist explained that the movement of the middle finger coordinates the movement of the other four fingers, so if the ligament of the middle finger strengthens, it affects the other four fingers. You will be able to hold and hold anything in your hand! Although it is very painful for the patient now, practice it now so that it will be familiar to him after the operation.
I was very complimentary of Krishna, who also let me take a picture. He laughed when I said: with his beautiful smile he could go to Bollywood!
I asked him what he wanted to do after the operation. "I want to go back to my previous job so I can support myself and my sister." - he replied. The next two months will be difficult, but in the meantime the hospital staff will give him all the help he needs to get back to life.
The next day, the rest of our group and I were able to go into the operating theatre. Krishna lay on the operating table, waiting for the big turning point in his life. The doctors were satisfied that the operation was successful and that he will be able to use his hands.
The next morning I visited him in the ward. He was so crazy about me! There was no interpreter at hand, but we understood each other perfectly. When I said goodbye, I could see the hope on his face as he looked to the future after a major turning point in his life. I wished him many blessings for this."