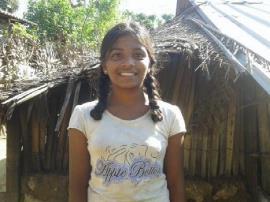 Abisha (pictured at the age of 11) is from Jaffna in northern Sri Lanka. Her father divorced her mother when she was found to have leprosy. Abisha and her mother moved in with her maternal grandparents, who lived in extreme poverty.Their house was small, built of coconut leaves, with no water source or proper sanitation. The village community in which they lived suffered much humiliation. Abisha's mother tried to find work as a farm labourer, but the women who worked there refused to take her in because of leprosy.
Later, Abisha was also diagnosed with leprosy during a health survey (supported by the Leprosy Society of England). She was only 7 years old at the time. Their lives took an even worse turn for the worse. Abisha was not allowed to go to school because of discrimination from the community. Their lives became miserable, with no house of their own, no income, no livelihood and no dignity.
It was at this point of despair that Nanthini, a community worker at KKM, brought light and hope. KKM is an organisation working to curb the spread of leprosy by launching various awareness programmes and tracking down those affected in Jaffna. They also support people affected by leprosy to access health care and rehabilitation training. They help with housing and sanitation; they fight discrimination in churches through awareness raising and education. CCM is supported by the Leprosy Society of England.
Nanthini visited Abisha's family regularly. She helped them to lift themselves out of poverty and discrimination.
The CCM has launched an awareness programme on leprosy in the local school and church. This enabled Abisha to return to school and continue her studies. After receiving MDT treatment, she was given nutritious meals.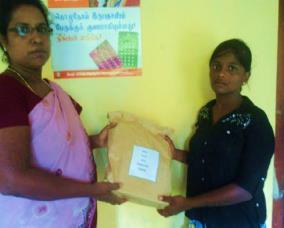 Abisha receives food during treatment for MDT
His mother completed a sewing course and got a job as a seamstress. She was now able to support her family. Abisha's mother remarried and had another daughter. Unfortunately, her second husband left them when he discovered that his wife had previously been a leper. They had to endure further suffering. Her mother developed liver cancer and died, leaving behind 10-year-old Abisha and her seven-month-old second daughter. They were overwhelmed with sadness and despair.
It was in this depth of their lives that they experienced the love of Jesus through the kindness and work of the CCM staff. The family joined the local church and Abisha was baptized. "We accepted Jesus Christ and our lives were changed. We felt peace and happiness inside."
With the continued support and encouragement of the CCM, Abisha and her family's lives have been transformed. She completed school and obtained a computer qualification to work as an office administrator.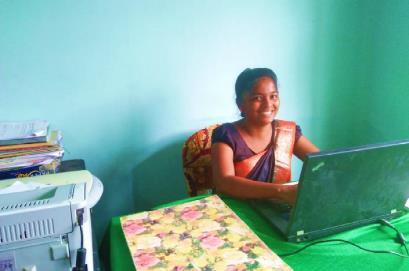 Abisha works as a clerk in the KKM office in Jaffna
He has also completed a course as a Bible teacher at the Bible College. The Lepramist Mission in England provided funds to buy a plot of land and build a small house on it, with proper water and sewage treatment facilities. The CCM provided them with coconut seedlings, which were planted in their garden for supplementary and sustainable income generation.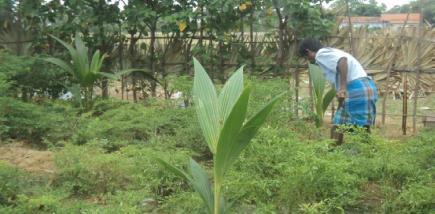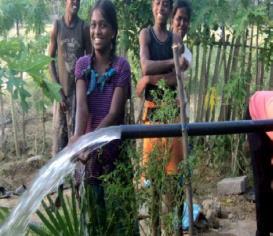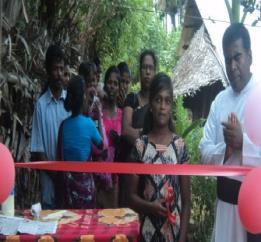 Abisha receives a grant from the TLMEW for water and sanitation equipment, as well as coconut tree seedlings, which have now grown up and are bearing fruit 6 years later.
Today, Abisha's life has changed. She lives with her grandparents and sister in their small home. She works as a clerk in the KKM office in Jaffna and is able to support her family on her income. She also helps the pastor of the local church with pastoral work. Her sister is in school and with Abisha's help she is doing well in school. Together the family takes care of the coconut trees in the garden, which have now come to fruition.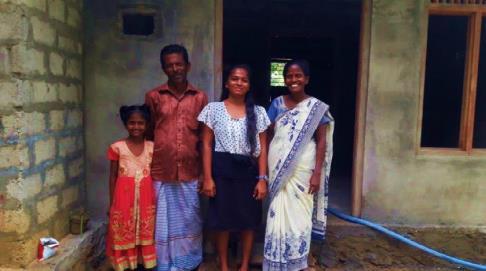 Abisha with her grandparents and sister in front of their new house
"In my environment, I show my love for Christ to people affected by leprosy." - says Abisha. As a youth leader in her community, Abisha provides support and guidance to young people to face challenges and overcome obstacles in their lives.